As per the norm for the Oscar Party… it is preferred (though probably not required) to come in dress in costume that emulates a film that is featured during the Academy Awards.
In case you have been sleeping under some sort of rock here are the nominated films for Best Picture:
Amour
Argo
Beasts of the Southern Wild
Django Unchained
Les Misérables
Life of Pi
Lincoln
Silver Linings Playbook
Zero Dark Thirty
So out of the above list I immediately crossed out Amour, Argo and Silver Linings Playbook due to the more contemporary nature of the content… well that and the fact that I was just too lazy to think of something really worthwhile that would be inspired by either of those films.
I also crossed out Beasts of the Southern Wild and Life of Pi because the only costumes I could come up with dealt with animals featured in either production and I just wasn't in the mood to emulate a version of The Lion King.
Zero Dark Thirty and Argo were also crossed out for personal reasons… aka I was just not in the mood for war dramas… I lazy…. and they tend to hit too close to home.
So that left the following:
Django Unchained
Les Miserables
LIncoln
All righty then… so who, or what, did I decide to dress up as? And why?… Well I would break it down… but when I did so I came across something rather interesting between the three…
As a parody movie posted mentioned Django Unchained is:
… the fun movie about slavery
So with a tagline like that about one film it is only appropriate to mention that the tagline for Lincoln is:
… the serious movie about slavery
Gotta love irony. Though keep in mind that Django Unchained is set more in the mid to late-1850s while Lincoln was set in the 1860s… so there is a decade difference between the two films, but not by much.
What caught my attention between the two films, however, was the stretch of fashion in the "Cleopatra Club" in Django Unchained… it is rather close to that of a "brothel" in a way, with a sense of prostitutes and madams all over the spectrum. Then I came across the following poster featured on the Django Unchained official tumblr: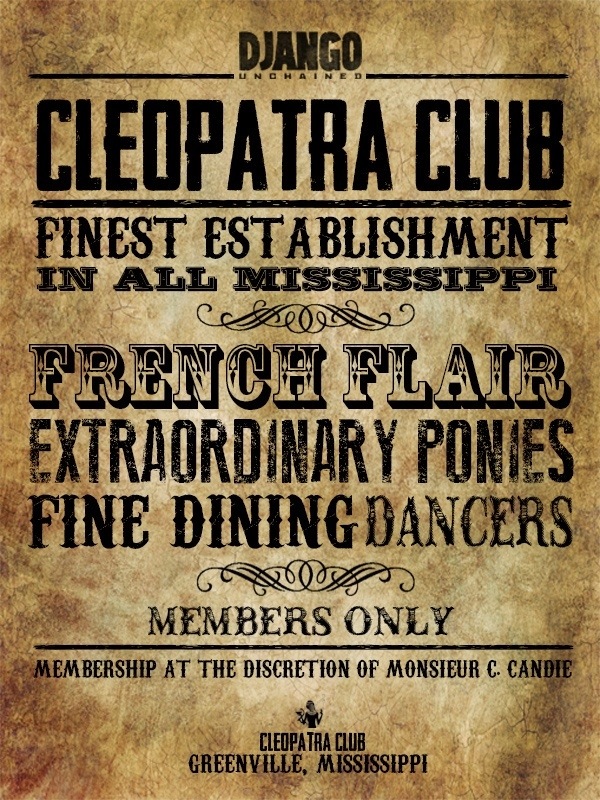 So there was a "French flair" with this particular establishment, was there? Which got me thinking… when was Les Miserables actually set?… Bingo early-19th century was when Jean Valjean was released from prison and it was approximately the 1830s that Fantine descended into prostitution…. anyone else seeing ties here?
So now what? Well… it seems fairly intriguing to me that I could attempt to put something together that actually ties into all three films in some capacity or another… an outfit that one could see at the "Cleopatra Club" complete with a cloak and a bit of "french flair" thrown in for fun… but all I got in my wardrobe is black. This is going to take a little bit of innovation and imagination… and because of that it is going to be fun.
What did I end up doing? Well with my bad habit of emulating a "higher rung" of society I chose to wear a corset that had a little bit of a steampunk twist (aka belts across the front), and I wore a couple of skirts underneath to add a bit of flair and color and allure if you will to the set. I also added the pirate top that I owned, again to break up the color and tossed on a few costume jewelry that I owned (ok, not a few… more like a lot) and voila!
Which is ironic because originally I was going to attempt to bring on my corny / crazy side and become Madame Thenardier… but I got lazy in the end and this is a lot easier for me to work and play with.
At least that was the plan… I had it on, walked around a bit and changed at the last minute for another steampunkish outfit that had a bit of an Anna Karenina feel to it… Then I topped it off with a elven-like cloak. Did my hair up in the 1860s bun/style…
Yeah I know… I'm a disappointment.