So I have been on a kind of corset kick lately… to the point that I have been putting together costume ideas for the next time I go to a convention or maybe even Halloween (shocker!). So why am I on this corset related kick?
Well to start, when I realized that my measurements were fairly proportional to one another (bustline and hips are within an inch of one another and my waist being around four to five inches smaller) the idea that a corset could squeeze that into an almost perfect hourglass shape (nine to ten inch difference between bust/hips to waist), it really emphasized the natural curves that most women seem to lack nowadays.
So now that I know the strength of my figure, the idea of putting together costumes that I know I could pull off well started to seep into my mind… below are just a few ideas…
LULU from FINAL FANTASY X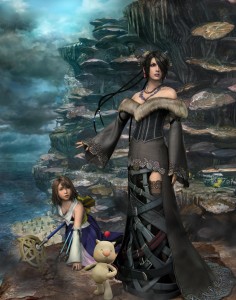 One of the costume ideas I have been staring at for years was the amazing costume from Final Fantasy X of Lulu. Now there are a lot of well done costumes out there already, but I am a little obsessed with the idea of having a corset as the primary piece and everything else would be rather simple to piece together from everything else.
In fact when Pendragon Costumes recently posted a picture of a new piece – via their Facebook Page – I knew I found my staple not just for Lulu but for a Steampunk costume should I desire it.
The irony of finding my base has led me to find other pieces online that I could use for my costume… most notably all the jewelry / hair pieces, the doll that Lulu uses… and even a YouTube video of someone showing how to use one's hair to mimic that of Lulu's without having to get a wig. Which for someone like me with long thick black hair… I prefer using it as much as possible.

I still have a few pieces to put together, namely the belted underskirt, the sleeves and the top fur trim, but I think for the most part I can get those done on my own as soon as the dress comes in. 🙂
STEAMPUNK
Speaking of Pendragon Costumes, I have always tickled with the idea of having a steampunk costume just for the hell of it. Granted I knew that by doing so I probably would have to do full out, but seriously when would I not do that? By using the same piece as mentioned above, but this time with an underskirt and shrug made of sage and gold chenille, I will have a grand ole time looking for pieces to match with the color scheme. Granted the sage and gold stands out rather well, but already I can think of a few accessories that would work out wonderfully.
And of course, it is corseted which helps a lot. Well it helps me a lot 🙂
DISNEY RELATED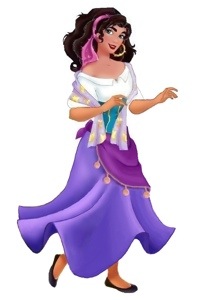 So I was surfing through DisneyBound one day for clothing ideas to put together for my trip to Disneyland with friends when I came across a suggested outfit for Esmeralda from The Hunchback of Notre Dame. When looking at the color combination I looked up the character and realized that I had the majority of the ensemble already in my closet, all I needed were the accessories. I had an off-white top that I recently purchased that would work, I had a long violet skirt that I used to dance around in… and best of all I recently acquired a deep forest green underbust corset. WIN all the way!
Now all I really need is the "belly dance" skirt with the gold pieces hanging to put over the traditional skirt I would wear… and a sash to tie around my head.
What about the large hoop earrings? I decided that I am not a fan of the hoop earrings. Instead I found a set of earrings from the body jewerly online website Litter… which is incredible and was featured on Shark Tank.
IN CONCLUSION
The irony of my life is that when I was younger I used to hate getting dressed up… I think after being dressed up as an angel for several years straight while in elementary school was what did it for me. However, over time the idea of dressing up into something new and different is kind of appealing. It is just the matter of what, why, when and how.