Many months (over a year) ago, my mother and I concocted the idea of baking our own version of the "molten lava cake" that we loved eating at restaurants so much. So, we searched online for various recipes and came across one that we decided that we liked from Savory Sweet Life.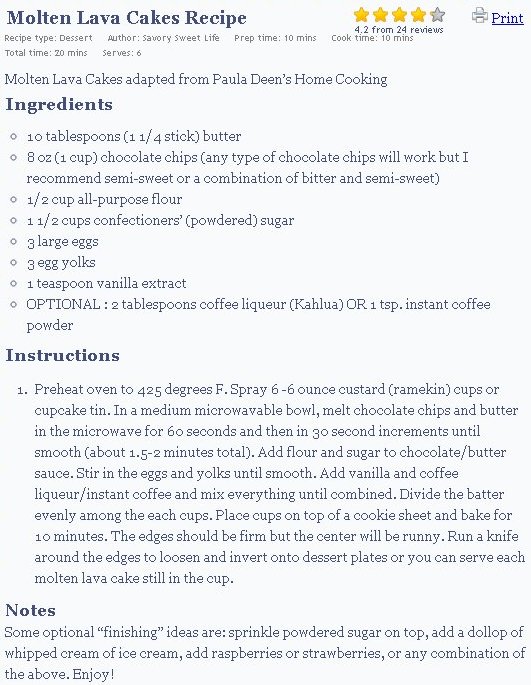 The recipe seemed simple enough, and had the addition of Kahlua, which was a plus for the both of us since there was a bottle of kahlua that has been untouched for years (if not decades).
We used custard dishes for the formations and created the molten lava cakes that we absolutely loved.
Over time, a coworker asked if I would be willing to bake a batch of such treats but in a smaller form. I agreed as long as he paid for the ingredients. Unfortunately that agreement never materialized so I never had a reason to try out the recipe in a different medium.
Recently as I was walking through my local Meijer I came across a shelf of Peppermint Mocha Kahlua and instantly a new idea came to mind: What if I took the molten lava cake recipe, added ground up candy canes and exchanged the traditional Kahlua with the Peppermint Mocha Kahlua? I mean, it couldn't be all that bad could it?

So I instantly bought a box of Bob's Candy Canes and a bottle of the Peppermint Kahlua with the intent of creating a batch of Molten Lava Cupcakes with Candy Canes. The results were better than I could have hoped.
The main issue… which considering this is molten lava cake and not cupcake in the original recipe is that the centers tend to drop… but again. this is molten lava cake, which means there is bound to have a dropped center.
So how did I change up the recipe? I simply exchanged the Kahlua for the Peppermint Mocha Kahlua I had purchased… and I added six grounded up Candy Canes. Voila! A treat that did not fail to get rousing applause from my test rats… I mean friends. =)
However, when I was talking to a friend of mine over the phone when I had the Peppermint Mocha Kahlua epiphany she mentioned how delicious it sounded and how she couldn't have it due to her only being able to eat gluten free food… DAMMIT.
So off to the internet I went… looking at every single ingredient to see if there are any that posed a threat to her celiac state. Aside from the obvious, there is nothing to confirm nor deny if the Peppermint Kahlua is gluten free… double dammit.
In any case, one step at a time, I went to the local supermarket and purchased the only gluten free flour available: Bob's Red Mill and the taste was off. It was still good and my test rats gobbled it up but to me it tasted off. So back to the internet I went and found a couple of other products that came highly recommended. One of them was Cup 4 Cup which I was able to purchase from Williams-Sonoma (yes I am that kind of girl).
Anyway… I have yet to bake a test batch with the Cup 4 Cup… but when I do you will bet that I will let you guys know first. 🙂
Oh… and how did I create a "test batch" from the above recipe? Simple… I just broke it down in accordance to the eggs… so I created a third of the recipe, which gives me about five cupcakes whileas the full recipe provide closer to sixteen.