Before recently, I never been to the Bristol Renaissance Faire or Ren Fair for short. There were a few shows that I ended up watching, a couple of musical groups that I did rather enjoy. However, what impressed me the most: the shopping. Who would have thunk.
Below are some of the shows that particularly caught my interest:
2 Merry Men
Spin the "Wheel of Sin" and join Robin Hood and Little John as they sing you all the songs that you love so well. Twisted comedy and music, definitely not for the kiddies. Laugh and sing along with songs of burning pubs, dock side floozies, and yes…even a song about Moose. Just remember, what happens in the woods… STAYS in the woods!
Ok, I will grudgingly admit, they made me laugh… a lot. Granted I was a brat, a sarcastic brat, but a brat nonetheless. With so many songs dealing with one of the 7 Deadly Sins aka Lust… I got bored despite enjoying myself.
When "Robin" came out wearing a moose head over his… well… "Little Robin" (for lack of a better term) he made a crack comment of saying, "Look we come in 3D!!!" and proceeded to walk towards me jutting the moose head out right towards me. So what was a girl to do? Well I went and made a grab for the moose head.
Yes I am a brat.
The roar of bagpipes and the thunder of the drums can only mean one thing. Tartanic returns to thrill audiences with a show that truly defines "Shock and Awe!" Taking tunes out of the session and into the sensational with their own brand of humor and theatrics. This is not just music… this is an interactive spectacle brought to you by… MEN WITHOUT PANTS!
Having been a fan of Celtic music I was drawn to this group. Seeing semi-decent looking guys running around in kilts just does something you know? Their female counterpart eye candy for the males danced here and there and a couple even belly danced. Belly dancing to Celtic music? Yes please!
I was glad to have had the chance to listen to them because the weekend I went was the last weekend that they would be at the Ren Fair.

Barely Balanced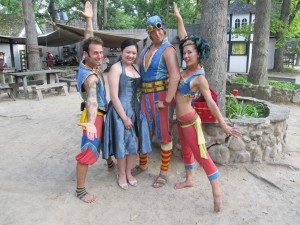 Bristol's favorite masters of acrobatic comedy have come home to roost, climb, balance and amaze! Performing acrobatic feats that you will see nowhere else, as well as their end of day fire show, Barely Balanced must not be missed!
This was a fun group to watch… what really made this balancing group unique was the comedy involved and that makes all the difference to me, mainly because after seeing more than enough balancing acts from America's Got Talent, I've essentially seen it all.
But yeah, their comedic timing was spot on… and that helped keep this interesting for me.
Having three figures known as "Small", "Medium", and "Large" I'll admit was rather funny. For me what drew me to them was when my friends spotted them throughout the Ren Fair walking and standing around on stilts. My friends knew them somehow… I've forgotten how exactly but man… one of my evil friends, "The Evil Camera Guy" as I called him when I first met him all those years ago, insisted that he take a picture of me with Barely Balanced.
**muttering** Steal my soul why don't you.
Dirk and Guido: The Swordsmen!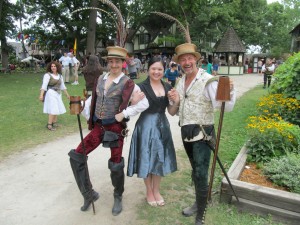 Blades flash in the sunlight and the cry of "What ho!" echoes through the air. Dirk & Guido: The Swordsmen, return to Bristol for their twenty-first season of flashing steel, daring do and the wooing of women. Bold and Stupid Men at your Service!
This was a pairing that I rather enjoyed watching. Then again a man with a sword is a huge draw for me. Much like Barely Balanced, this pairing added a lot of comedy into their routine. They were funny, spot on and then some. There were moments where I wanted them to just move on with the next line, but for the most part they were a joy to watch.
For a silver fox, Dirk looked good… and I worked with a lot of middle aged and older men. But the draw was undoubtedly… the feathers… I mean look at it! If I could find a fan with feathers that long I would die a very happy young lady. Oh and Guido wasn't bad looking either.
Like I said before, the shopping is what caught my attention the most… from the costumes to the glass blowing goblets. From the leather bound journals to just leather in general. There was just so much to take in… and I had the distinct feeling that I didn't get to see it all.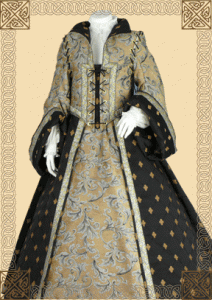 Pendragon Costumes: My friends made a point of telling me over and over again that if I was looking for a costume I needed to make a stop at Pendragon Costumes because they know of my love of quality and design.
For anyone that knows me well enough would know that I have a particular love for corsets… considering that I had a corseted dress made with two more that I really would love to have made down the road.
Skimming through their site, I noticed that they also have sections for the Steampunk variation and Science-Fiction leather variety. But what really drew my attention was the traditional Renaissance costumes. The only dress I tried on was the "Anne Boleyn" style gown and my goodness I loved the feel of it. I loved how I looked in it, oddly enough. I say this because the way the corseted is fit it really rests on my hips and it was comfortable for me. When I told the fitter this he mentioned that I have a more traditional female body and as thus in his opinion wearing a corset works best for my body type… interesting. I could never stand seeing of the girls that are wearing corsets that they bought online and you can tell that they bought it for show and it wasn't form fitting. So depressing.
For anyone that remembers I am considering looking for a costume to wear for the FablesCon in March 2013 up in Rochester, MN. My first thought was to go as Lumi the Snow Queen, and although I could probably put a costume together I would have to dye my hair white (since I am adverse to wearing a wig).
On the other side of the coin I changed gears and though about being Winter as she visioned herself in the future to be, I could keep my naturally dark black hair, but I still would have to dye white streaks in my hair. Let's not forget that the costume might be a bit more difficult to put together… as hot as it would look.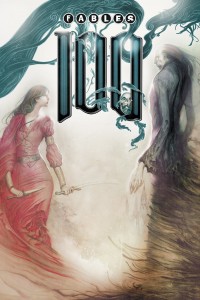 At the end of the day (figuratively speaking) there was one other character that caught my attention and I realized that I could most likely put together whilst my next trip at Ren Faire: Bellflower.
Looking at what was available at the Pendragon Costumes website I realized that of the bodices I could purchase a red on red Juliet bodice and add to that a brocade skirt.
One thing is for sure… from the website (when I go to the Faire next) I intend to purchase a cloak, mostly black wool with a silver lining. This way should I be so lucky as to go out in an evening gown I could go ahead and toss on the cloak… then again, there is also future possibilities, but we'll see.
However, when it comes to Bellflower, perhaps it would be smart to also purchase a red cloak with burgandy lining just to add color to the all red costume. Instead of wool, I may use cotton or linen because velvet might be a bit much. Hmm I rather like that idea.
Faire Pair Tights
A friend of mine sent me the link to the above website thinking that it would be something that I may be interested in. Well looking at the website, I could see why, there is a velvet burgundy dress already made that would fit the dress perfectly, I would need to find a jacket or vest to wear above it.
But as easy and simple as it would be to just use that as a basis, would it work? I think so… I would purchase the burgundy dress with regular sleeves. However in doing that I would still need to find a proper top. Which come to think of it would come best in the shape of a bodice… probably from Pendragon costumes either the Juliet or sleeved bodice.
Look at me… going on and on about what I am going to get… I must be nuts, still this will be fun to put together with a dress / bodice reasonably set all that is left is all of the accessories. That'll be interesting, maybe for the hell of it I'll get a white velvet dress too (depending on price) to wear as Lumi the Snow Queen… now that's a thought.