One of the recipes that me and a friend of mine tried during the Bake-a-Thon in late January was the Cheddar Cheese Popovers. I found several recipes on the internet but the one I ultimately decided to try was from Food.com
From the original recipe below…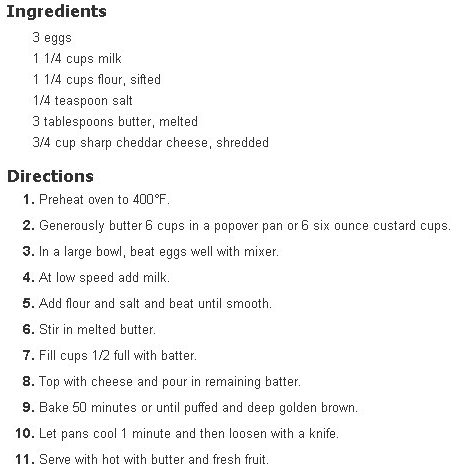 I naturally made changes… like what? Well…

– I mixed the cheese into the popover batter as opposed to keeping them separate
– 50 minutes was way too long… instead the popovers were baked at the 35 minute mark
– did not bother sifting the flour (I lazy)
The result? Well as my friend posted on her Facebook Wall:
The verdict? It was fracking amazing. In fact they were so amazing my friend and I teased another friend about it:
Person A: Whelp, apparently we are poppin all over the place…
Person B: Pictures, please.
Person A: As soon as they are done poppin in the oven… I'm sure she would be more than happy to have pictures taken.
Person B: Wow… it's even kinkier than I thought.
Person A: Wow… She just cried out "Oh baby"… rather orgasmically […] hard and crispy on the outside… warm and soft and cheesy in the inside…
Gotta love word play.
Would I change the recipe from how we played with it? Not a chance… this was:
. . . Practically Perfect in Every Way . . .