So when Iron Man first came out I didn't watch it… didn't have any inclination to do so…
Then a friend of mine wanted to see the Avengers and I thought "why the hell not" and found that I really enjoyed it.
In fact when I first wrote about The Avengers I went so far as to say the following about Iron Man:
I was apprehensive when the first Iron Man movie came out despite the good reviews, and was just as apprehensive when the second movie came out… but when I watched The Avengers I just started drooling. He was funny, and witty and absolutely delicious. So now I know what I'm going to be catching up with this summer.
So yeah… I actually did do some catching up in some capacity over the summer pre-flight and during flight… except I didn't watch the Captain America film that was available on flight because I just wasn't in the mood… ah well.
Anyway this post is suppose to focus on Iron Man… so focusing I will.

Tony Stark is your typical playboy billionaire with a hell of a "watch me watch me watch me" complex. What Pepper Potts saw in him from the get go I think the audience grew to love and understand towards the end of the film. Because Tony was for me someone I'd love to be friends with but never sleep with to someone that… well… you can't help but love and Pepper was there from the beginning.
Even though we didn't really see much of what happened before between Tony and Pepper we do get the distinct impression of how much they truly rely on one another at the beginning of the film and when Tony comes back from his kidnapping he re-prioritizes his life in such a way to focus more on what is more important to him.
To me this is not too far to believe that after such a crazy event like being held hostage by enemy insurgents… it forces one to change their way of thinking: sometimes for the good and sometimes for the worse… in the case of Tony Stark it was inevitably for the better. Although when someone makes a decision that changes the direction and lives of so many people there are bound to be consequences and enemies created in the process and unfortunately for me this was the most predictable piece of the story.
Granted with the apparent intent of expanding this particular movie into a plausible trilogy it makes sense that the first movie of the series would come off as much more predictable than desired as long as there is something to compensate for the predictable storyline… in this case the characters as played by Robert Downey Junior and Gwyneth Paltrow really brought the characters to life on screen. I believed the growth of their chemistry and how these two theoretical opposites attract and eventually have a romance blossom between one another… possibly. And seeing this same miniature romance blossom over the course of the later films (well for me The Avengers) is rather nice to see.
Terrance Howard as Tony Stark's best friend leaves something to be desired for me. I like his enough as an actor and his portrayals, but there are times when I just don't believe in that particular chemistry. Terrance on his own I could handle… kind of, but Robert is such a special kind of actor whose acting career and life has been on such an upward path that it is going to take a very special kind of actor / person to balance him out and I just don't believe in Terrance being able to do that.
Gwyneth Paltrow, on the other hang was totally believable as not just Pepper Potts but as someone that is interested in Tony Stark but knows that as his employee and knowing the kind of lifestyle he leads:
Which includes the occasional taking out of the trash
She keeps her distance and manages to keep the friendly rapport alive. There were moments when I felt that Tony knew he had feelings for Pepper but never really knew how to deal with them. Pepper holds her own against such a strong and known personality like Tony Stark and between Robert Downey Junior and Gwyneth Paltrow there is a chemistry that is palatable and you know that Gwyneth could hold her own when up with someone like Robert.
But back to Robert… his portrayal of Tony Stark was so spot on that for a movie that is revolving around a clear central character, Robert had a battle on his hands to take a character that people can very easily dislike and turn him into a very sympathetic character that audiences would be cheering for without making him too cheesy… and quite honestly he did that really really well. Tony was not only your ego-centric playboy billionaire but he was funny, witty, and is more than willing to get his hands dirty when necessary. In otherwords he could be the everyday man… just with a bunch of billions.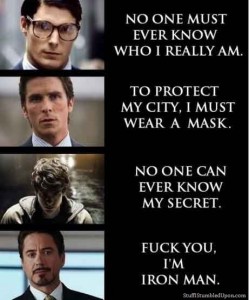 I remember a meme running around the internet recently that pretty much reflects Tony's personality to a tee.
Well as much as I hate to admit it, this just breathes a breath of fresh air into the whole superhero genre where people have secret identities up the wazoo… ah well. 🙂 I will admit if Iron Man was this much fun, I am kind of curious to see what Iron Man 2 would bring, especially since Robert Downey Junior essentially stole the show for me in The Avengers.
Speaking of which the following is the rumored movie run updated from my first list at the end of The Avengers post, new movies are in bold:
– Iron Man 3 (2013): In Production
– Thor: The Dark World (2013): In Production
– Captain America: The Winter Soldier (2014): Pre-Production
– Guardians of the Galaxy (2012): Pre-Production
– Ant-Man: In Development
– The Avengers 2: In Development
– The Incredible Hulk 2 (2015): Speculated
– The Black Widow: Speculated
– The Avengers 3 and Captain America 3: Chris Evans mentioned that he is contracted for six films which fueled speculation of trilogies for Captain America and The Avengers
So for me… I should probably find time to watch Iron Man 2 and Thor at minimum… ode joy! 😉