My first day back from the old country and I was itching for some kind of Vietnamese food. After looking through my parents' fridge I noticed some leftover eggs and decided to make Cha Trung or… Vietnamese Omelette. Unfortunately I never really learned how to make it via my mother and since my parents were still in the old country I needed to either find a recipe or have a quick Skype conversation with her to figure out what to do.
Via the Skype conversation I knew that I needed roughly the following:
– eggs, vermicelli noodles, ground pork, white onions, black pepper and fish sauce.
A fairly simple recipe… except I wasn't entirely able to figure out the portions needed so I searched around online and found a couple of recipes from Saigon Cooking and Asian Spicy Recipes. What I ended up using as a basis was the Saigon Cooking recipe which included:
Ingredients
1/2 a bundle of vermicelli noodles
small handful black fungus
1-2 tablespoon of oil for frying
3/4 eggs
1-2 shallots, chopped
3 chives, chopped thin
1/3 lb. ground pork
fresh ground pepper
2 tablespoon of fish sauce

Directions
1. Beat eggs in a large bowl, with fish sauce. Chop onions, vermicelli, and mushrooms. Mix in with eggs. Add ground pork and black pepper.

2. Heat pan over high heat with oil. When hot, pour in mixture, cover with lid, and reduce heat to medium/medium high. Let cook. Check after about 6 minutes. Let cook until top is set and bottom is browned. (Can take up to 15 minutes). Once top is set, loosen edges with spatula. Slide it out onto a plate, then carefully place the pan over the plate and invert. Continue to cook until bottom is crunchy set.

3. Remove onto plate. Let stand. Cut into squares. Eat over rice.
Now as usual I adapted in accordance to taste: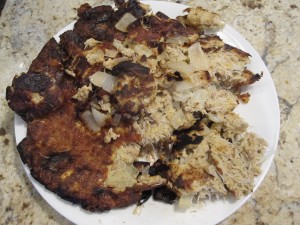 I didn't use shallots… instead I used a white onion. I didn't include chives or fungus either.
So my original recipe turned out to be more like the following:
– 8 eggs
– 1 pound ground pork
– 1/2 chopped white onion
– handful of vermicelli noodles
Then I put in a few dashes of freshly ground black pepper and fish sauce. I also used enough oil to cover the bottom of the pan.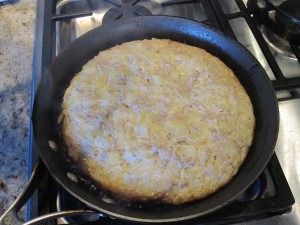 The most difficult thing to do in this recipe was flipping the omelet. I couldn't flip it like a pancake (it was too heavy!) so I had to do it by hand and the first time came out to be a massive eggy mess. Granted, I wasn't trying to impress anyone and it tasted really really good so I didn't really give a crap how it looked. However, the perfectionist in me wouldn't take no for an answer… Ah well, if at first you don't succeed try try again. This first attempt didn't last very long when it came to being eaten… so a few days later I decided to cook TWO omelettes since I was going to be busy like crazy over the course of the week…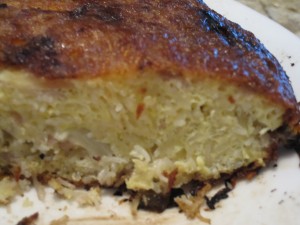 On the stove it looked pretty darn good, but dammit I was scared to death of flipping it… I mean what was I suppose to do? Well I tried the method from the recipe again and what do you know it worked!
By this time my grandparents came to the house and commented on how good it smelled so that made me happy. When my second attempt was done cooking I cut it open so my grandparents could have a taste… and damn did it taste good too. So they took some of the omelette to take home with them while I went to work on making the second omelette.
This second try of Cha Trung the recipe was the following:
– 6 eggs
– 1/2 pound of ground pork
– 1/4 chopped of a large white onion
– handful of vermicelli noodles
I worked with the ingredients given to me… and adapted and personally I think it was a win for the most part. It definitely satisfied my cravings for Vietnamese food… well for now. I don't know about later.