Over the Thanksgiving holiday my sister made some cheesecake that at the end of it she had leftover cream cheese. So I decided to make cheesecake ice cream with the leftovers. Fortunately I found a recipe online that calls for the exact amount of cream cheese that was left over, so I decided to use that.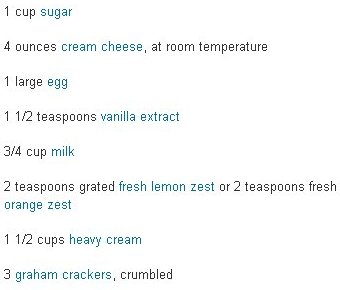 However, because this is me we are talking about here… since the recipe calls for 3/4 cup of milk and 1-1/2 cup of heavy cream, I decided to substitute milk for soy milk so that all that needed to be purchased was the heavy cream… everything else is already available at home. Oh, and my usual honey instead of sugar.
We made do without the lemon zest and the graham crackers and that was about it.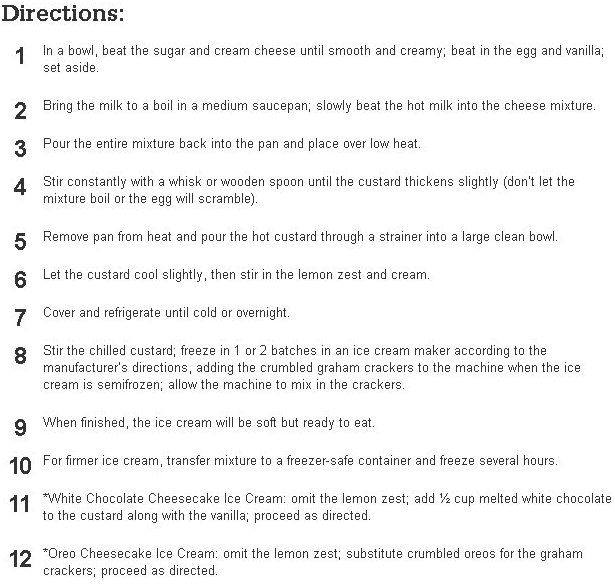 When you look at the link you will see that there are a few possible ways to change up the recipe for different flavorings. Since mom wanted to keep things as simple as possible, I agreed and we stayed true to the recipe. Well true enough all things considered.
But since the whole point of why I cook and bake and what not is to create food stuffs using what I have on hand I changed things up… In the case of the cheesecake ice cream, we are using the remainder of the cream cheese (which did amount about approximately 4 oz, which means we have to buy heavy cream and use the soy milk. Since the most suitable portion of heavy cream (at the supermarket) is one pint, I decided to use it all and add in a half cup of soy milk to help balance things out.
Confused? Here's a quick list of the CHANGED items:
– 1 pint (2 cups) heavy cream
– 1/2 cup soy milk
– 1 cup honey powder
– subtracted graham crackers and lemon zest
I kept the remainder of the recipe as is, popped the mixture into the fridge and waited for the concoction to chill. Then after dinner was done and it was closing in on the eight o'clock hour we took out the custard and poured it into the ice cream machine to churn it into the cheese cake concoction.
What resulted was a luscious creamy cheesecake tasting ice cream that was just begging to be eaten. So my mother and I packed up the ice cream put it in the freezer and ate whatever we couldn't fit into the container chosen.
All in all a success… I think from now on whenever I am at my parents' for a spell I'll use soy milk as opposed to traditional whole milk, but add in a little more heavy cream to compensate on the lack of fat in soy milk.