When my friends warned me that the weather was rather cool up in Minocqua they weren't kidding. I got up at the crack of dawn (just mere hours after a long night by the campfire) and found myself feeling the cold air even though my body was warm and snug in my little cocoon of blankets and coverlets. But I wanted to see the sunrise… so I pulled myself out of bed, tossed on my coat and went out to the dock and "Oh Em Gee" it was gorgeous… and I was so mad that I forgot my camera. Dammit. Ah well.
You just had to see it to believe it, you just had to be there. Eventually I went back to the cabin and snuggled back into bed and played on my iPad (yup still a geek). After another hour passed I decided I lounged around long enough and pulled myself out of bed and took a warming shower before getting dressed and headed to the dock to memorize lines for a show in late-September.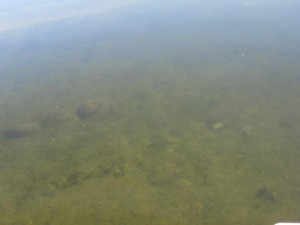 Enjoying the calming air, the glass water… I got distracted and had to take a picture to show just how clear the water was. While memorizing lines I was beckoned indoors for a massive mug of some awesome coffee and a hell of a breakfast complete with grits, bacon, eggs and a piece of toast.
Now I had never had grits before either (you know that whole thing about being a foreigner and all that jazz?) so I was curious as to what was in it. All I remember hearing was milk, sugar, salt, butter and I think cornmeal but in any case it was good… Nom nom nom nom nom, as the cook said
This should fill you up til burger porn this evening.
Oh Em Gee… burger porn, how could I forget? But I am jumping too far ahead here.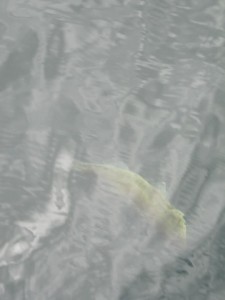 After breakfast, those of us that were awake piled back into the pontoon boat and went back to a few of the spots that they fished the afternoon before. Eventually I started asking questions about fishing and the type of fish caught, what they are doing… etc, because you know this is a completely foreign experience for me… and what do you know? I was very fascinated by every step in the process and why they would toss the fish back into the water.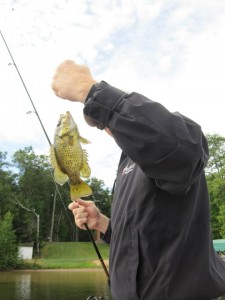 In fact I think the fish were realizing that I was having so much fun that one decided to jump on my lap to join me… Awww, so cute. 🙂
After a hour or so I was itching to do something more than simply sit and watch and talk and play on my iPad (well that and the fact the battery was getting low) so I asked to pilot the boat so both guys could fish to their heart's desire. The skipper agreed and soon I was manning the boat and bringing it towards the drop off points where the fish were more likely to congregate. Let me tell you that piloting was not easy, but dammit it felt natural, I loved it! I had never been so happy and free in such a long time.
In fact it reminded me of an arcade game that I was (and still am) addicted to: Hydro Thunder.

Now for the console platform it is not a fair representation, but if you go to an arcade with the massive arcade game where you could sit in it and you have the steering wheel in front of you and the gear lever to your right, that was what sitting and driving the pontoon felt like! It was just like being in that arcade / video game all over again and it just felt right to me. Granted I was driving a pontoon boat as opposed to a speed boat… but if this is any indication maybe me behind the wheel of a speed boat might not be the smartest thing on the planet. Again… I am straying.
Eventually after relatively quiet waters we migrated to another lake where the drop off point was crazy just feet away from the shore. When I say crazy, I mean normally when you walk from the shore into the water, the water depth should only be a few feet and then the further our you go it would drop off to something like fifteen twenty feet. Well some of the spots we visited the drop off would jump to thirty or sixty feet while only ten / twenty feet away from the shore line!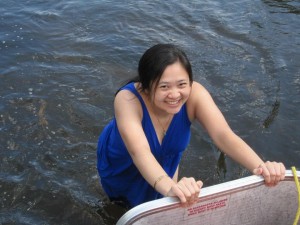 After spending a good hour around that particular area (where there were some gorgeous cabins and boat garages) we drove towards a channel that was known to be extremely shallow. Heck the women in the boat were warned that we may have to push the pontoon should the motor couldn't push the boat through. Thank goodness I was wearing layers up the wazoo. I had a shirt, a sundress, athletic pants, leg warmers, socks, and my old high school letterman jacket (yes it still fits… w00t!). So I stripped down to just my sundress and us women were complaining that we should have put on swimsuits that morning as another layer of clothes! Damn hindsight.
As we got stuck at the channel, we jumped out of the pontoon boat and pushed as the men navigated through the channel. Yup, us women did the pushing for once. (Go ahead with the dirty jokes here too.) And slipped in the sand and fell in the water… isn't that fun?
Eventually the skipper took over the wheel because he knew the area better than anyone and the sun finally came out so I kept my letterman jacket on to absorb the sun rays and to keep me warm and toasty (because I have no blood circulating through my body). After another hour or so navigating just outside of lily pads and some strange waters it was time to head back to the dock. The skipper took us through the shallow channel where us women got dressed and pushed again and after another tight fitting channel the skipped allowed me to take the wheel and take us home… needless to say that I was having so much fun that a picture of me had to be taken.
Oh and in case you were wondering: yes I had two different outfits on this day that I simply layered one on top of another as I had mentioned earlier in the post.
So I drove the boat back to the dock where we were greeted by the other two who weren't awake when we went to the lakes earlier in the day. They spent the day relaxing and headed back to town together for a spell and lunch. Eventually one of the guys started prepping for burger porn while every one rested up, napped, walked around. I started memorizing more lines until I noticed the storm clouds rolling in, then I hightailed it back to the cabins and relaxed with a blanket and my now charging iPad.
Eventually a deck of cards was taken out and five of the six of us played rummy for a few rounds, I think most of us won a hand at some point and we had considered playing a different game until we realized it was almost time to get the table of plates ready for the burgers.
Now I prefer my meat to be medium rare and I am not adverse to seeing a little bit of blood as I cu through the beef. This on top of my early comment of how I used to eat just butter on rice prompted a whole spell of jokes of my being a pre-transitional vampire (go to the Black Dagger Brotherhood paranormal romance series for more information) or I happen to have a little bit of vampire blood in me. Well considering my fascination with that particular species of the undead, can't say I blame my friends for the thought…
And apparently their belief of my vampire ancestry has spark other memories that shall remain under wraps *insert evil cackle* still it was Facebook worthy enough to be posted. 🙂
In any case, back to the burgers with a bit of mayo and ketchup, apple slaw and potatoes and snow peas on the side. We didn't necessarily had a race to see who finished their meal first. But one of the guys finished their burger before anyone else and while he was working on the potatoes and peas I finished off my plate choosing to work on the snow peas (which I am not typically a fan of) then eating the burger and potatoes simultaneously. All this while eating with a knife and fork! Tee hee hee, talk about being well bred.
Eventually everyone finished their meal and we relaxed a little bit as we waited for the rain to cease. We sent a Bon voyage to one of our number who had to leave that evening due to a previous commitment and then there were five. The rest of piled back into the pontoon boat and drove into the lakes, only closer to dock in case the clouds rolled in a little too soon.
After a couple of hours of fishing, relaxing, watching the clouds roll in, we went back to the cabin and beat the pouring rain and spent the remainder of the evening playing Ticket to Ride and Catan.
Ticket to Ride is apparently a favorite to play because the girls are able to pay the game while drunk… Really? And it requires at maximum only five people to play. So after being told bits and pieces of how the game is played we all did a couple of rounds and wouldn't you know… I found myself so addicted thereafter that I just had to download the iPad version as well. In fact I purchased all the various iPad versions I could get my hands on and have been very well addicted to Ticket to Ride ever since the trip.
After Ticket to Ride we played Catan, oddly quiet in the cabin we were all pretty low on energy and needed a quick pick me up while gaming through the night… specifically some warm blueberry pie! With whip cream! Nom nom nom nom nom. In fact the blueberry pie was being warmed up as well as a pot of boiling water was going on to help warm up the cabin. We kind of blamed the cold rain outside.
Catan was definitely much more involved than Ticket to Ride and learning all the ins and outs and trying to strategize was proving to be more than I bargained for, but I had fun nonetheless and I also purchased that game for the iPad so I could learn how to play the game for future game nights.
Eventually we wrapped up two games of Catan and decided to clean up the dishes and kitchen and just call it night. With dreary weather and such a long day we were all puckered out… as soon as I tucked myself into bed I was out like a light.
The next day I slept through the sunrise and realized that it wasn't exactly warm. Realizing that I had a long drive ahead of me I decided to clean up everything in the cabin after a quick shower. After everything was packed and in the car, I went to the main cabin and realized that others were awake and getting ready for a trip back out on the waters. Choosing instead to find a quick bite to eat I opted to stay behind and found the other half of the sandwich that I brought with me at the start of the trip but never got to eat.
After quickly warming that up and munching on it, others woke up and we cleaned up the cabins. They were preparing to leave and I finished the dishes and eventually left the area at around 10:30am.
Looking back, even though I was there for a little over a day I realized that there is so much that I could have done and didn't (like going into town). I finally realized what it was like to just relax and enjoy life and for once my over analytical mind didn't weigh me down. I did get some work done (memorizing lines for a show) but for the most part I simply enjoyed myself.
There were a lot of things that were new to me and there are still more that I wanted to do (like learn to fish) but patience and time would hopefully get me there. Almost as soon as I started driving down the Interstate towards the Chicagoland area I started thinking and planning for my second trip that is in early September: Vietnam… but that's going to be another series of posts. But I am a heavy planner with a suitcase pretty much full… so I am not all that worries… or should I be?