On a whim I decided to purchase a ticket to see Il Divo & Orchestra in Concert World Tour for the first of their two night stay in Chicago. Personally I have been a fan of Il Divo since their self-titled first album back in 2004, like most other women that fell in love with the group over the years the one song that caught my attention back then was the Spanish cover of Unbreak My Heart as sung by Toni Braxton: Regresa a Mi.

Still so good and dare I say it probably even better live. The staging for their current world tour is very similar to their DVD concert Live in London.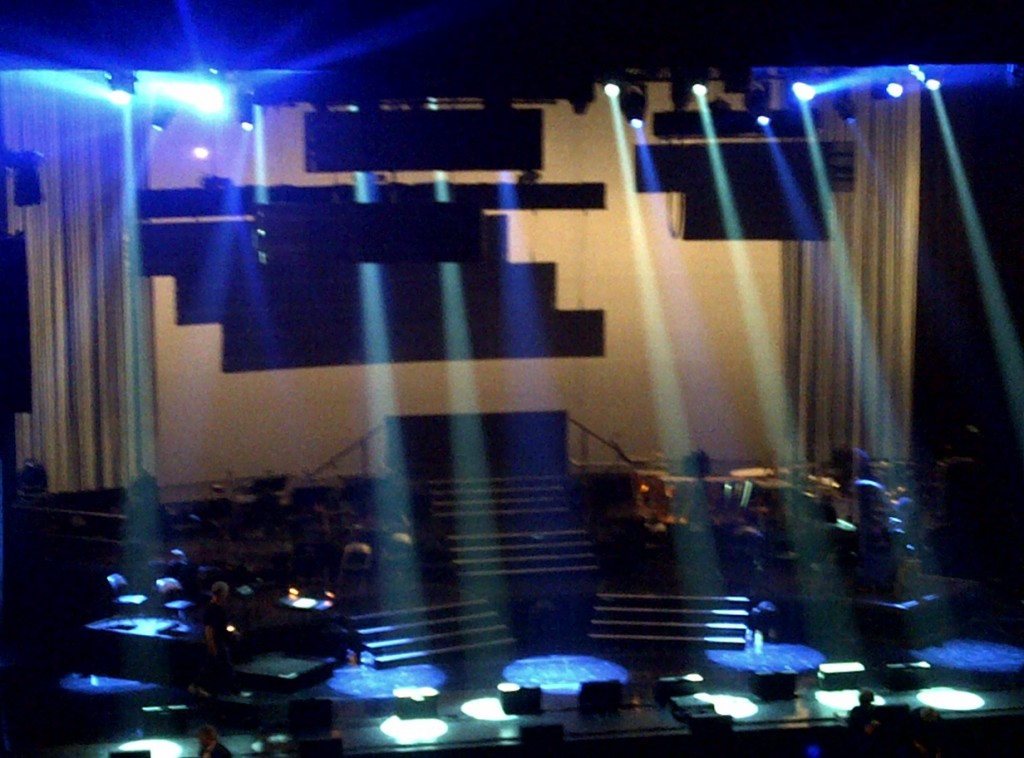 For that particular number the men dressed down a wee bit from their normal full Armani suits and serenaded the crowd… but one of the songs that they opened with was their rendition of Come What May from Moulin Rouge.

Their music repetoire to me appears to stretch across a vast variety of styles and songs, going from balladic pop (like Unbreak My Heart and Unchained Melody) to musical theatre (Impossible Dream, Somewhere), Latin / dance (La Vida Sin Amor) to other popera songs (Time to Say Goodbye). Their latest album and tour set list also largely reflects their expanding repetoire though if I were honest I would have liked to have heard more songs / music in the vein of the Latin / dance song: La Vida Sin Amor. However, this quartet isn't known for their Latin roots, but rather for their romantic classical sound so I can't complain too much since that is the sound that drew me to them in the first place. What was another major draw for me? The fact that not all of their songs was in English, in fact the majority of their covers are done in other languages be it Italian, Spanish, or French (as some of the primaries) which is a reflection of the international feel of this group (David is from the United States; Carlos is from Espana; Sebastian is known as the Frenchman in the group while Urs is Swiss).
Taking a look at the released set list for the current World Tour:

ACT ONE
ACT TWO
Come What May
Dove L'Amore
Adagio
Nella fantasia
Medley (La Vida Sin Amor / Ti Amero / Have You Ever Really Loved A Woman / Angelina)
Don't Cry For Me Argentina
Everytime I Look At You
Passera
Unchained Melody
My Way
Senza Parole
Melanconia
Si Tu Mi Amas
Mama
Hallelujah
Crying
Ven A Mi
Regressa Mi
Por Que Tu Me Amas
Somewhere
There have been a few changes and adaptations from this original set list but the majority of the songs are correct. Il Divo balanced some of the songs from their newest album with plenty of old favorites from their previous four albums. They went through the entirety of the spectrum of music while staying true to themselves as artists and performers. They are entertainers in the same vein as the boy bands or pop princesses from the turn of the century but they entertain in their own way that just brings the audience and fans back for more.

To say that the are a "boy band" can be considered true and false… their sound isn't created for the teeny bopper, they aren't a flash in the pan, but rather they have a much more "refined" (as much as I feel guilty for saying that) sound and quality to their voices and as thus music. With three of the four artists being classically trained and Sebastian (the Frenchman) calling himself the only "self-taught" one of the group… each of the four artists bring a very different style to the group. And as Urs puts it best:
We are perfectionists. We are also determined not to become predictable. There are certain things you will always get with Il Divo. It will always be the four of us onstage and there will always be certain vocal parts that suit each vocalist. Within those limitations, though, anything is possible.
When you take a look from their original album and their evolution of sound through the next three you can understand what they were trying to go for when they came back together to work on the fifth album. In fact according to David:
We wanted to recapture some of the magic of the first time we were in a studio together. When we made our debut album we had to experiment in order to find our sound. From that, we established a template, and that made each album easier to make. We became more efficient. Now we've ripped up the blueprint and gone back to the original colours. We haven't thrown the baby out with the bathwater, but we've tried to reinvent ourselves.
Reinvention seems to be the name of the game with a lot of vocal acts nowadays, particularly those that have been around for almost a decade or more. As groups, fans, people age they are constantly trying to find ways to either keep their sound current to the main populace or current with the ears of the fans that they have an eventually bringing others into the fold. Il Divo, in truth, has stayed rather faithful with their original sound that drew them to their fans and audiences, but what I did notice in their tour this time around was a lot more depth and emotion that is now with their music that I couldn't say with all honesty was there before. With a few songs that were old favorites you can feel and hear the richer quality as opposed to when they first came out.
Urs touches upon this when talking about their latest album: Wicked Game:
With Wicked Game, we wanted to change the emphasis, and you can hear that in the arrangements. There is greater lushness and depth. We've taken things a step further.
Listening to the group live, I took the time to look around the audience and realized that the majority of the fans were women (surprise surprise) but not just that but primarily those hitting middle age on up… if that just doesn't reflect on my mental state then I don't know what does… I felt like the oldest thirty year old in the room. But I digress. There were a fair number of couples and considering the romantic nature of Il Divo's sound… I am sure a lot of guys got their rewards for taking their loved ones to see Il Divo.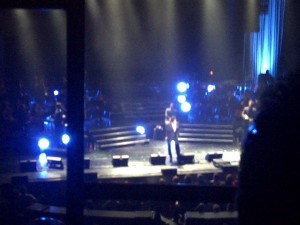 One thing I noticed from Il Divo is that each of the members are growing into certain personality niches while on stage, which if you would keep in mind may or may not be all the different from how they are off the stage. You have the American, David Miller, who is undoubtedly the clown of the group. The comedian so to speak. There is Sebastian Izambard the mature, happy family man and you could see that extra glow coming off him particularly when he talks of his growing family. Ladies man Carlos Marin whom Il Divo continuously calls "the single" one of the group… and quite honestly Carlos even advertises himself as such. Finally quiet, studious Urs Buhler who tends to come off as the little brother that everyone loves and loves to pick on… until they reach for the hair in which case he'll fight back… kind of… sort of. David and Carlos undoubtedly came across as the two who appears to be the most comfortable talking to an audience (I would know… I saw David in concert a couple of years ago when Il Divo was in the midst of working on their fifth album). Every now and then Sebastian and Urs would add in their two cents, but the majority of the introductions were from David and Carlos and to me as a quartet they balanced each other rather well not just as people and vocalists but also in stage personas.
One of the tidbits that seems to be a bit of a repetition (but dammit it always works) is Carlos' intro to their Latin flavored song: La Vida Sin Amor

I really love this song and yes I do dance to this on occasion and dammit what girl doesn't like a man with a bit of Latin flavor and a seductive voice.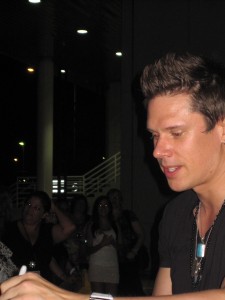 Anyway David, the comedian of the group tripped down a stair midway through the concert and from that moment thereafter he kept referring to the step and attempting to prove that he could go up and down the stairs without incident. David was also one of the first to start talking and when he did he was complaining about how it was rather hot in the theatre and proceeded to undo his tie and loosen up a bit… to which started a barrage of the other guys telling him they would pay him five dollars to keep going to ten dollars to take his pants off. I faintly remember a few of the ladies popping up a couple of bills as well. Ah David, sometimes I think you do that to toy with the ladies you evil evil man. This eventually became an ongoing joke when another guy comes up to talk to the audience whilst on stage.
So yes, over the years this quartet went from being a very clean cut and stiff group to being laid back and comfortable with the audience. When leaving the concert I recalled hearing from another fan:
This kind of ruined them for me. This kind of ruined their clean cut image, because I liked that.
To each their own, but honestly their clean cut image can only do so much for so long because others become bored and lose interest. At least that is my opinion and this is their opinion and what can you do?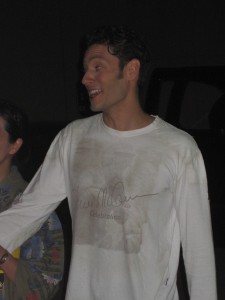 Il Divo will only be in Chicago for two nights: Friday and Saturday… so that means tonight's the last night. This isn't your typical pop or rock concert this is a concert full of pop music sung in a more classical vein and should not be confused with taking classical music and bringing it into pop culture. When you listen to their music you realize that most of their covers are in fact already popular songs originally, what Il Divo does is infuse their classical sound into the music creating a grey area that can be endearing.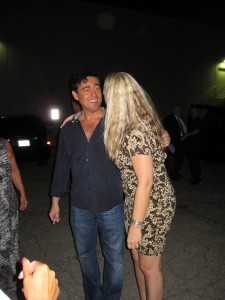 Considering that this is one of the few vocal groups that I had any desire to see live I say my work here is done. 🙂 Which is funny because I purchased the ticket on a whim and a fancy, and in hindsight I am glad I did.
After the performance three of the four members of Il Divo signed autographs and posed for pictures, I managed to snap a couple of good ones, unfortunately David ran around like a mad man and Sebastian was nowhere to be seen.
It makes me kind of sad that it took me this long before I was able to see this group live, because quite honestly for me this was worth it. Seeing the four guys that I have been following and anticipating albums for the past eight years (with no signs of stopping) sing live you know they are not only as good as they are in the studio but in some cases better as well. There is just something about being in a live setting that gets the adrenaline racing and the heart pumping and with the right talent and control can blossom into something worthwhile.