Early in April (the first weekend of April) I made a trip to New York City to watch a couple of theatre productions for one of the blogs that I write for. While there I saw Disney's the Newsies the Musical and Once the Musical… in fact my impressions of those particular shows have been posted on my blog already.
There is one show – if it can be considered a "show" – that I also went to that went beyond all words and description that it literally took me a few months to truly comprehend what I had experienced and realized that when I go back to New York, I would be more than willing to plop down more to see the production a few more times. Yes, a few… and I've already "seen" it twice.
British Theatre Company: Punchdrunk made the trip over the ocean to introduce the Americans to a new kind of theatre experience with the presentation of Sleep No More. They first made their debut in Brookline, Massachusetts, when they took over an abandoned school and transformed it into a variety of scenes that delve into the world of Shakespeare's Macbeth and tying this Shakespearan tragedy into the world of the Speakeasy / Film Noir.
Even now I am having difficulty organizing my thoughts on this fantastical production. I'll see what I can do though:

When I was talking to my sister about going to New York for a "work" related trip to see the Newsies she immediately started telling me about another production that she believed I would really enjoy. Originally the production was open in late 2010 and was going to run for a year and close in late-2011, however due to it's constant selling out and popularity (and repeat visitors) the run kept being extended.
She went so far as to say that the first time she went, she generally observed more than interact, but the second time around she made a point of interacting more. When I asked, "interact" she sent me someone's tumblr post about their experience at Sleep No More and mentioned how her experience was similar but not as "innocent" as it were (dammit girl, green eyed monster coming out =D ). When I asked her about her second time through she admitted that it was definitely more fun when she was in the thick of things as opposed to just watching from a distance – as in a stage production.
So I purchased one ticket for Friday night at 11:30… right after I was to see the Newsies. Yes I was that crazy, I was only there for one weekend (Friday thru Sunday) and I was already going to see three shows over the course of the weekend. But when I thought about her experiences and my penchant to sit back and just watch initially before involving myself I sucked it up and purchased a second ticket for Saturday evening at 11:30, which would be after another other musical me and my friend would have chosen to go and see if we wanted to.
Over the course of one weekend, I was going to see Sleep No More, twice, late at night and would not be in bed til 3:00 in the morning if I was lucky… I must be nuts. So I started researching as much as I could about the production online. My sister was forthcoming with some information:
– based off of MacBeth
– you are better roaming on your own
– you are free to follow the actors
Interesting… so this is more of an immursive kind of production / experience. Not like the dinner murder mysteries persay, though the barest concept can be considered similar: the interaction between the actors and the audience. Other than that, the similarities end.
Eventually I came across various concepts and reviews online:
– The New York Times probably provides the best kind of review that you can think of… though it focused more on the primary story, that which ties into the Shakespearan tale of MacBeth
– The Huffington Post's article talks a little bit more about the interaction between the actors/dancers and the audience
But nothing really prepared me for what I was about to experience.
When you first walk in, you are asked to check in all bags, purses, wallets, coats, hats, etc at the coat check. Bring in a credit card or a little bit of cash, but everything else must be left behind. Then you are given your "key card" which is just a playing card with a hole punch in it and asked to walk through a series of dark pathways for a little while until you find yourself in a bar/club complete with stage. You are allowed to purchase drinks and mosey around and interact with those manning the club or chat it up with your friends. Eventually your card name would be called up and groups of people are ushered into a side room, given masks that they are asked to wear throughout the duration of the experience.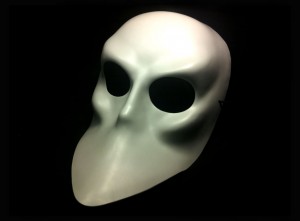 These masks give a sense of anonymity for the audience, much like if they were simply sitting in the theatre and just watching these performances on the stage. You are never to take your mask off… unless the actors / actresses do it for you, and that only happens in one-on-one situations/scenarios (similar to what happened to my sister and the girl of the tumblr post above). Then everyone is filed into an elevator that stops on multiple floors of the building and lets off smaller groups of people at a time. If the elevator operator notices groups of people sticking together, they will do what they can to separate the party as they go through multiple floors.
How many floors is there in the complex? It is hard to say, in the two nights that I was there…
– First Floor: Includes the primary Ballroom / Hotel front desk and dining area
– Second Floor: Storefront Street with a Rave out of the way
– Third Floor: MacDuff's living area
– Fourth Floor: MacBeth's bedroom and forest
– Fifth Floor: Infirmary/Asylum
Mind you, the above is all speculation, I didn't have anything to write down where everything was, and I certainly couldn't keep tract of the layout of the premises. There were a lot of other side areas, like a Graveyard, King Duncan's tent and grave, etc…
Just like a traditional stage production: lighting, sound, music, set pieces all play a part in bringing this production to life. What makes this different is that as an audience member you could feel like you are part of the action, standing right that with the actors and dancers as they act/dance out their parts. You could walk right into the set and read the letters on the desk, feel the stuffed animals in the taxidermy shop. The only thing you shouldn't do is touch the actors without being asked to… case in point there was a moment when one of the female dancers was laying on a concrete table "playing dead", one of the audience members went right up to her, removed his mask and tried to kiss her. One of the moderators stepped in and pulled him out of the experience.
On the other side of the coin, should you be so lucky as to follow Lady Macbeth as she attempts to bath the blood of her hands, she truly does show in a bathtub, with lukewarm water, in the nude, with blood trickling down her hands. Eventually, after anxiously rubbing her hands clean she reaches out for something to dry over cover herself with, in which case one of the audience members would find a towel or robe nearby and gives that to her to dry herself with. Or in the speakeasy bar, the bartender would have swing music on and would grab a girl to swing dance with for a spell, for me one of the actors came up to me from behind and held my shoulders as he place his suit jacket next to me before heading to play cards with a few other actors.
For anyone familiar with the story of MacBeth, what this production does is "fill in the blanks", essentially when in the original play you may see what is going to between a certain set of characters, you also get a chance to follow other characters that are not the focal point in the original play thereby giving you a chance to see what else could be going on. What "Sleep No More" also does is create another storyline that you can follow that enhances the lives of the primary characters of MacBeth. To tell you this secondary storyline would give away too much at this point.
You don't have to follow just one character, you could follow one around, up and down the building and choose to leave and follow another, or just go to a room and sift through the belongings and set pieces. Essentially just live through the production. Two or three times per hour they cycle through the "act" so if you feel like you've missed something the first go around, you can choose a different route a second time around ending the three hour production in a climatic finish.
A dance heavy production, everything is so intricately choreographed that you could stand right up against them and understand the story playing out without words, as dancing should be. Some of my favorites dance pieces includes:
– a witch dancing around a pool table with the speakeasy bartender
– a possessed man seemingly going crazy on the pool table
– a fight scene between the speakeasy bartender and one other guy
– Macbeth and Lady Macbeth's celebratory dance around their bedroom/bathroom
– massive ballroom dance where most of the characters from Macbeth are a part of and the dancer who plays King Duncan dances with a guy
– witches dancing at the hotel desk and another dance at a club bar
Yes, the list goes on… and on… and on…
What I truly enjoyed about this production is that you are in charge of how your experience would play out. You are in control of what you want and get to see and move as you see fit. Though, I will admit seeing this production simply once is not going to be enough. I highly recommend repeat visits to get a full sense of the experience. I know going there twice only saturated my curiosity for more. The ticket price is massive, I know, but this is a must experience production for anyone that believes that they have seen it all. I promise, it'll be worth it.