Ask any actor/actress that enjoys being a part of theatre, chances are they probably have a short list of shows and/or roles they'd love to play. I'm no different despite this being more of a hobby for me than anything. Although I don't have a stage play short list (I am usually game to most anything) I do have a musical theatre short list… two of those musicals I have either already done or am doing, so what do I have left?
Well let's start with what I have already done:
– City of Angels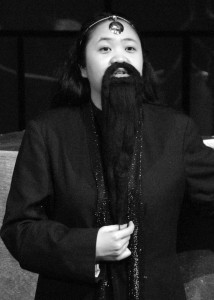 Yes, I was even willing to grow a beard for a show. =) I loved the musical: City of Angels ever since I first heard "The Tennis Song", so when I read up on the synopsis of the show and started listening to more of the music I knew that this was a production I just HAD to be a part of. Little did I know what the director at Theatre-on-the-Hill had in store for me…
City of Angels is NOT based off the Nicholas Cage movie of the same name. Instead it is about a writer whose is hired to adapt a popular book of his for the big screen. As we follow the writer go through the perils of working in Hollywood we are also watching scenes from his movie unfold concurrently. Changes he has made in the script are seen live on the stage as it happens.
What I love about this particular show is how two seemingly separate storylines are intertwined. There are particular moments in the shows where you see only one story or the other, and sometimes you see them both happening concurrently. Sure it forces you to think more than the average show, but once you get it, it makes the whole thing even funnier and worthwhile.
There was one conversation I had with a friend whose career is in the performing arts and we agreed that if someone is truly serious about acting and performing they better damn well be willing to make a fool of themself on stage. Pride, image, ego, etc goes right out the door, there is simply no room for it. If you're not willing to "look ugly" on stage, then you're not really serious about acting.
I swallowed my pride for my art and to this day people still remember that role. That's making an impression. People don't always remember the leads or the straight forward roles, they tend to remember the crazy, off beat, quirky characters. Plus you have fun along the way. =)
– Dirty Rotten Scoundrels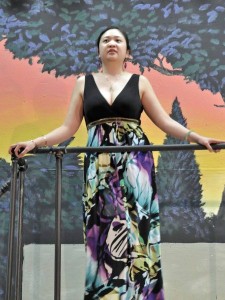 This is a show that I fell in love with after one song: "What was a Woman to Do", I can't tell you how many times that particular song was on repeat. So when I heard that Wheaton Drama was planning a production of this show as the final piece of their 2011-2012 season, I had to make sure that my schedule worked around this. And due to a set of favorable circumstances, not only did it work out for me, I was lucky enough to participate in the one song that made me fall in love with the show in the first place. And irony of all ironies, it happens to be the one series of lines that I absolutely love.
What IS Dirty Rotten Scoundrels about: It's about two con men staying at the French Riviera trying to out-con each other. Their mark? An impressionable young newcomer from Cincinnati, Ohio.
Dirty Rotten Scoundrels is a show that has you thinking in one direction and when you think you know what's going on, *poof* a curve ball gets thrown and you suddenly find yourself going: WTF?!?!?! And you're back at square one.
Ironically, playing a high class woman isn't too far off the mark for me, having done something similar in previous shows (Much Ado About Nothing, Neil Simon's Rumors, Pride & Prejudice). It has been joked that I'm better off playing a southern belle than low class ghetto, and as much as I hate to admit it… I'll have to agree.
Hmm… kind of makes me wish that I hadn't taken semi-permanent breaks from theatre in general in favor of my day job… Here's hoping I'll get the chance to do any of the following if not all.
– Into the Woods
When I was a kid and I was watching a PBS special of Into the Woods with Bernadette Peters as the Witch and I thought "I want to be a part of that". There was something alluring about seeing a variety of fairytales being tied together and meeting up in the woods and interacting whilst still going on with their individual storylines.

It has been whispered by insiders that a movie version of the musical was in development years ago, but it seems to be more in development hell. Ah well. =( There are plenty of community theatre groups doing this show in recent years, I am sure I'll have my chance to participate in this show at some time in the future.
– Children of Eden
Children of Eden is at it's core a story about family, set in two known religious stories: The Story of Creation in Act One and the story of Noah and the Ark in Act Two.
The song I had used for my earlier auditions was "Stranger to the Rain" which is the song that introduced me to this fabulous show via AccuRadio Broadway:

There were auditions for an amateur production of this show a couple of years ago, but I was so busy working that I simply couldn't make it work, but I am kind of regretting missing out on that. Here's hoping that one day I'll get that chance.
– Songs for a New World
Jason Robert Brown's music revue show: Songs for a New World is rather difficult to explain. The most I can say is that this show deals with moments, as the moment when a heart wrenching decision is made and the affects of it. To try to derive a singular (or even several) storyline is to invite insanity, instead this is a show that just needs to be appreciated.
What drew me to this production was the song: "Stars and the Moon". In this particular number we have a woman who believes that she wants a life living large, and rich. She meets two men who would give her a world of love, truth, and passion, but she turns them down in favor for a guy who has all the material wealth and would shower her with riches. The message in this song is so poignant and lost in today's society that is almost needs to be emphasized over and over and over again.

One other song that really drew my attention once I listened to the cast recording was "I'd Give it All for You". I can't really say personally why this means so much to me, but this is definitely something that I can relate to:

– Jekyll & Hyde
There is just something about Frank Wildhorn's music that has drawn me to his shows ever since I was introduced to Jekyll & Hyde. The song that did it? I can't say, the musical as a whole had a darker vibe that drew me in, even though I knew the story inside and out. The anticipation, the heartbeat. Or the way that she is drawn into Hyde's voice when they sing: "A Dangerous Game", this sends shivers down my spine.

I can't wait to see this show now that it is announced that there will be a touring production starring Constantine Maroulis with hopes of being revived on Broadway, and you can bet I'm going to go and see this show the moment I am able.