Disney has ruined fairy tales for me, well for all of us really. I mean we grow up thinking that there is a happily ever after, except when we start reading the original fairy tales that the Disney versions are based off of, we end up with a rude awakening. Namely that the fairy tales don't really have a 'happily ever after' in fact they usually have a warning label or a lessons learned disclaimer on the back.
Interestingly enough, I started to really enjoy the original fairy tales and soon started to look for other tales from various other cultures to satiate my thirst. That was when I was introduced to "Fables".
You see, Fables is a comic series from Vertigo that takes all the beloved fairy tale characters and sends them to live in New York City, far from their Homelands where a singular enemy has turned all these beloved characters into refugees on the Earth or Mundy as they like to all it. Not only is this a witty conglomeration of every beloved fairy tale that you can possibly think of, but the creator of the series: Bill Willingham, has quite intelligently combined fairy tales and nursery rhymes together when necessary.
– Take the Big Bad Wolf for example (also known as Bigby Wolf in the series), he is a singular character in the Fables universe, but he is the same major wolf character in a variety of stories.
– Snow White is widely known as the beloved princess of Snow White and the Seven Dwarves, but she is also the sister to Rose Red in the fairy tale of Snow White and Rose Red. In the Fables universe she is also introduced as the uptight, strict deputy mayor of Fabletown.
– Little Boy Blue isn't quite so "little", rather he is not only Snow White's right hand man in the mayor's office, he also has a hell of a military back story from back in the Homelands
What Bill has done is very creatively and realistically tied together stories to create a richer back story to these beloved characters in such a realistic and natural way that you can't help but love them even more.
Then Bill did something new, he expanded upon the universe and created a world of Literals beings who were essentially the personification of literary themes and terms. The Editor became Mr Revise, Deus Ex Machina became Dex, and the various fictional categories became The Genres. All of these characters found in the spin-off series: Jack of Fables.
During the Great Fables Crossover, the Genres were introduced into the world, amongst them was:
– mystery
– science fiction
– fantasy
– horror
– blockbuster
– war
– romance
– comedy
And so on. So when I saw the genres introduced I just knew that I had to have a commission done that represented the family of as many genres as possible. So I called up comic artist Tony Akins who was the primary artist for the "Jack of Fables" series and presented him with this commission. He took n the challenge, and then some and the below is his final product.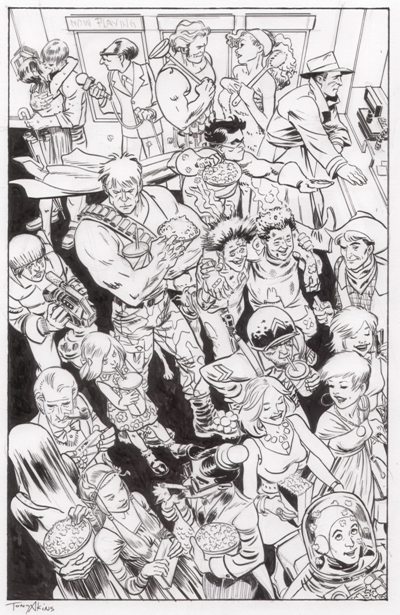 He actually posted this on his Facebook page with the following caption:
…what kept me: The EXPANDED 'Genres' catalog from FABLES per Bill Willingham, Matthew Sturges and with additions by Ms. Ho and yours truly…Thanks to Michelle Ho for the commish, it's really plugging a hole before my next project takes off. These are basically the common genres or themes (?) of literature manifest with some other more contemporary pedigree sprinkled on top. Care to guess? — with Michelle Ho and Bill Willingham.
Now that the run of Jack of Fables has ended, Bill Willingham and Vertigo have created other spin-off runs like Cinderella: From Fabletown w/ Love and the sequel mini-series Cinderella: Fables are Forever. If you're wondering, Bill Willingham has managed to realistic turn Cinderella into the ultimate spy… one could say three times the spy that James Bond is in more ways than one. They have also launched a new series: Fairest which includes various stories from all the various beautiful belles of the Fables universe.
Bill has also ventured into prose writing within the universe, his first endeavor being: Peter & Max which is about the Piper brothers and their lives since the takeover in the Homelands into the present day.
This is probably one of the more fun series I have read in a very long time, and in a lot of ways not at all predicted in the least. And if anything, listening to the Peter & Max audiobook as read by Wil Wheaton is a definitive plus in my book.