Typically for new shows that have come on the air, I watch for a season and then I lose interest. This happens more often with reality competition shows. Which is odd since I blog for a bunch of them as well, but that's a different story. Ever since American Idol, there hasn't really been much competition in the reality singing competition, and even then American Idol had the distinct feel of being very manipulative behind the scenes, which didn't help me in wanting to like it any more. So I stopped watching after the first season.
So when the premise of The Voice came about, I was skeptical and intrigued. In the end I decided to give it a shot and see what happens. Next thing you know, one show continued to another episode and then another. Then I started downloading some of the music, and eventually I ended up watching the entire first season and anticipating the second season.
Needless to say I did the same with the second season, watching everything from day one and continued onward til the end.
What I really love is that the coaches don't really bring addition drama, they are all very supportive and they are invested in the vocalists that come onto the show. So let's look at the track record of the coaches from the only two completed seasons thus far:


Christina Aguilera has had an artist that has placed last in both seasons thus far. Whether that is just the nature of the beast or the artists on her team is anyone's guess. I really love opera voices – being a huge fan of Il Divo, Josh Groban and Vittorio Grigolo – so to me Chris Mann is just right up my alley. However, I would have loved to have seen him sing a piece that is more out of his comfort zone and really make it his own as opposed to something that is typically tried and true. Still, I can't wait to see where he goes from here.
Last season's coach winner: Adam Levine from Maroon 5 ended up 3rd with Tony Lucca, a former Mouseketeer with Christina Aguilera and others. Tony had the most stand out performance in my opinion, he took a risk in taking Britney Spears' Hit Me Baby One More Time and making it his own.

However, this was also done on another reality singing competition: Marty Casey from Rockstar INXS

Personally I really liked Tony's rendition more, and honestly the audience wanted Katrina Parker over Tony Lucca when you take a look at the audience score breakdown and compare it with Adam Levine's. But even then the audience was fairly split as well going for Katrina (52) over Tony (48), but there's no need to analyse this.
Cee-Lo Green had a very strong performer in Juliet Simms, and she really worked out of the box in several cases. I think over the course of the season, Juliet was the one that I had to grow to enjoy because at first I really didn't care much for Juliet. Learning to appreciate someone's talent through a show like this where they are able to grow really helps them in the long run.
Finally, Jermaine Paul, Blake Shelton's winner for Season 2. Blake did well last season with Dia Frampton placing in 2nd, so with a vocalist like Jermaine Paul, Blake had something special in his hands. In fact I remember in the blind auditions the following interaction.
CeeLo: I want you on my team and the people seem to love you too.
Jermaine: You say you want me on your team. And 'want' is a cool word, 'need' is an even better word. But I want to hear that word 'keep'. I want to be 'kept'.
CeeLo: I tell you what man, I won't make it anymore complicated than it already is man. Yo I need you on my team, you very very strong.
Jermaine: See 'need' is better than 'want'.
Blake: Man, I think the word 'keep' is up to you. You blew us away. You still got a lot of work to do. […] I'm not going to sit here and say the word 'keep' to you because that's a lie and I'll never lie to you.
Blake is right, being 'kept' is really up to Jermaine, if he really wants to be 'kept' he is going to have to earn it, and he did. Blake's straight shooting mentality won Jermaine over and it became a partnership that no one really expected to happen to the very end.
Looking at the semi-finals point scoring system I realized something interesting: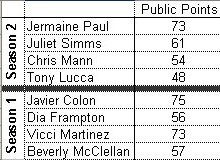 If you look at the public points given to each of the four finalists it would appear that the public already made their decision as to whom they preferred more, the finalists placements being similar in the semi-finals as in the finals.
However, when I tried to do the same with Season 1, Dia Frampton placed last in the public points in the semi-finals only to come in 2nd overall. Then again, Dia took the most risks in her song choices and making them her own, particularly when it came to her version of Heartless by Kanye West (YouTube embedding disabled).
What I really enjoyed about Season 2's finale episode is how the finalists brought back some of the eliminated favorites from the show and sang with them. I would love to see more of this in future episodes with probably the addition of the final four singing together.
Also seeing all the other behind the scenes bits made it for a very enjoyable show. I for one can't wait to see what will happen in Season 3 of The Voice. =) And I hope that you take the time to see this gem of a show, because I can assure you, it's going to be worth it.