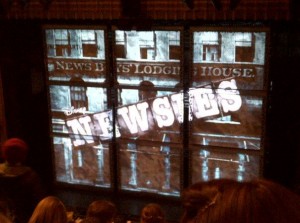 When The Newsies first came out to movie theaters in 1992, it was well known as a massive financial and commercial flop. The star of the movie, Christian Bale, was said to have hated the movie so much that he reportedly wouldn't talk or even acknowledge its existence in his acting career (but between you and me Christian should thank his lucky stars that the Newsies was a flop otherwise it wouldn't have given him the drive to improve himself as an actor and therefore be an Oscar winner today – but that's a different story).
Fast forward a couple of decades and the Newsies became a massive cult classic… what started as a flop in movie theaters across the country became a cult classic when put on VHS and DVD (I know I'm guilty of that). So when it came out that Disney Theatrical was working on a musical version of the beloved movie, the general consensus was cautiously positive and with just cause because the movie did not do well how would a stage production fare?
So Disney got smart, they tested the show out of town to positive reviews, reworked a few things here and there and brought it to Broadway on a limited but open ended engagement. Next thing you know it has been a packed house ever since.
Being a Newsies fan I was intrigued with the concept of the stage production and so far liked what I saw. However, knowing that some pieces of the storytelling got changed or rearranged, songs got cut others got added in, I was reasonably apprehensive. Was Disney selling out the integrity of the story in favor of catering to a larger audience? I didn't quite know what to think, so originally I decided to wait until the soundtrack came out to make my decision of whether to see the show live or not… originally.
The Broadway cast list was revealed and myself and other bloggers of Pure So You Think You Can Dance (or PureSYTYCD for short) were all fired up and creating an email storm. Why? Simply because of the following four individuals:
– Thayne Jasperson (SYTYCD Season 4, Top 20 – dance: contemporary)
– Evan Kasprzak (SYTYCD Season 5, third place – dance: Broadway style)
– Alex Wong (SYTYCD Season 7, Top 11 withdrew due to injury – dance: ballet)
– Jess LeProtto (SYTYCD Season 8, Top 20 – dance: Broadway style)
There were four dancers in the cast that were finalists on So You Think You Can Dance, and they all came from different seasons. Yes, I'm fangirling a little here. This was a real coup for the bloggers so we decided to try to make a trip out to the Big Apple to see this theoretically terrific show and enjoy the dancing. Afterall, when you have four incredibly talented and well-rounded dancers in the cast, the choreography had better meet some really crazy high standards and expectations, I'm just sayin'. (For some of our thoughts on the choreography and the SYTYCD dancers involved with the show head over to the Newsies post at PureSYTYCD.com)
In the end only two of us were able to make it and as thus a trip was planned for the first weekend in April (which just happened to be Passover and Easter depending on which religion you happen to be more aware of), and I talked another friend and my sister to join us in seeing the musical.
First thing's first, Disney did the smart thing and brought back Alan Menken and Jack Feldman to expand on the score and lyrics of the Newsies, since they wrote the music and lyrics for the original 1992 movie. Harvey Fierstein was brought on board to work on the book and as thus some storyline aspects that were part of the original movie did not transfer onto the stage, the story became a little more streamlined, and a few characters were either added, changed, or expanded to enhance the original storyline. Do I agree with all the changes? For the most part, some of the lyrics didn't necessarily need to be changed around, but in the grand scheme of things it made sense.
For any Newsies fan out there that have yet to see the show may be asking "Who is Katherine Plummer and why is she replacing fan favorite Bryan Denton?" The truth is, I can't say… in doing so would reveal too much of the plot. What I can say is that Katherine Plummer is a combination of two characters from the original movie… in a way.
Now I can't tell you much about the plot since that would involve spoilers, except the following:
– Jack Kelly turning into a scab was taken out: which to me loses a lot of a dramatic pull from the movie plot
– Medda Larkson's big song in the movie was replaced and her character's backstory was expanded a bit
– Jack Kelly's character was given a little more depth
– Joseph Pulitzer's character was also expanded
Disney has continued with the trend of using video productions to enhance the musical experience. The first major instance of this happening on Broadway (that I recall) was in Andrew Lloyd Webber's semi-recent production of the Woman in White where they used video projections for the backdrop and scene changes. Frank Wildhorn's Bonnie and Clyde also used some video to help with the story, but that became more of a decorative piece (from what I understand). With the Newsies, the video projections not only provided much of the backdrop for a lot of the scenes, but it also gave the audience views of what the characters are doing on stage when normally the audience goer would be expected to believe the character or use their imagination.
For example, when Katherine is trying to figure out a way to write an article about the Newsies strike, she goes through several failed attempts. When she's typing away on her typewriter a video projection of the paper she is typing on appears and it is revealed to the audience what she is typing even as she is singing. When she rips the paper out of the typewriter because she hated what she wrote the video projection shows the paper being ripped out and disappears altogether.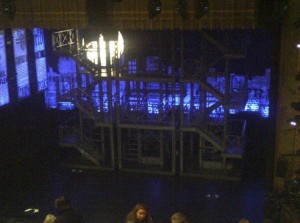 Whomever worked on the set design for the Newsies better have more work coming their way because what they did was not just clever, but ingenious as well! The primary set pieces are a trio of cubic towers that three to four stories high each. Each one has stairs and platforms that wrap (circle) around it to the top platform. When the three pieces are placed together in a row, actors are able to go from one towards to the next via gates that open and close and are locked shut when the towers are separated. On one side of the towers there are screens that cover that side for video projections at the beginning, intermission and sometimes when necessary throughout the show. Watching the cast run through the "alleys" of New York via these towers and how it seems like a maze in a lot of ways when Jack Kelly, Davey and Lou are running away from the cops is just another plus of how this trio of towers is one of the most ingenious set pieces I have seen in a lot time (probably reminiscent of the set that Weta created for Lord of the Rings for when Sam was running up the tower to save Frodo after Frodo was taken away by the goblins… but I digress).
But enough about the set, let's talk about the cast! Jeremy Jordan originated the role of Jack Kelly when the Newsies had their tryout at the Papermill Playhouse and after a stint as Clyde Barrow in Frank Wildhorn's Bonnie & Clyde, he returned to the Newsies' Jack Kelly in time for previews and Opening Night. First off, for any Newsies fan… never, ever, ever compare Jeremy's portrayal of Jack Kelly to the interpretation of Christian Bale, they are both incredible actors from two completely different entertainment mediums.
That being said, I LOVED Jeremy's interpretation of Jack Kelly, a young kid searching for something beyond the alleyways and the newspapers of New York City. A tough guy exterior with a touch of vulnerability that you don't see until he's safely away from everyone else and alone. The opening song – which in the musical adaptation is Santa Fe – gave me chills from the first measure. The way he delivered the sense of longing and desire for a place that he has never known or seen but wanted virtually all his life was heartbreaking.
As for Broadway newcomer, Kara Lindsay… she does an amazing job balancing between being a wide-eyed girl on the verge of a major breakthrough and the strong independent woman you rarely see during that time period. Her voice is both soft and strong, minimal flash unless necessary and smooth as silk. She tap dances with the best of them during "King of New York" and proves her prowess as a strong leading lady down the road… this is the girl you better keep an eye on for the future.
Other than the four So You Think You Can Dance alumni that caught our attention, there was one other ensemble member of the cast that made us go "WOW! Where did HE come from?": Ryan Steele. My god that boy's center was beyond amazing, and he had a decent number of times in the spotlight, namely when he's pirouetting solo, onstage, while everyone else was setting up for the next sequence. Known as Specs in the show, he got a decent ensemble role in the production, not like it mattered, my friends and I watched the bespectacled dancer through most of the ensemble numbers.
The remainder of the cast provided so much fun, joy, and entertainment that everything seemed to flow effortlessly. The chemistry between all the leads and featured actors/actresses was so much fun that you actually do forget that these were actors acting through the production, in a way they became storytellers that were more than just involved with the story. You can easily find yourself getting sucked in… if there was a Tony Award for Best Ensemble, the Newsies would undoubtedly get nominated… but alas.
Speaking of the Tony Award Nominations: if you're curious as to which Tony Awards the Newsies are nominated for… here is the final list (mind you I wrote all of the above before the nominations came out):
– Best Musical
– Best Performance by a Leading Actor in a Musical: Jeremy Jordan (Jack Kelly)
– Best Director of a Musical: Jeff Calhoun
– Best Choreography: Christopher Gattelli
– Best Score
– Best Book
– Best Orchestrations
– Best Scenic Design of a Musical